CHRISTINE WILLIAMSON PUTS BUILDING SCIENCE IN YOUR HANDS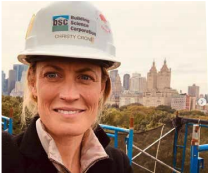 Christine Williamson is a building scientist who made it through architecture school, in her own words, "by the skin of my teeth." Learning to be an architect is famously difficult, but Christine suspected, quite correctly, that learning architecture would be very different than actually working as an architect. Christine got her first taste of proper architecture work with Chris Benedict in New York City.
"Chris gave me my first hard hat," Christine says. "She's an amazing architect who is passionate about creating buildings that are both environmentally sound and financially viable. Chris put me in the field right away, sending me out to construction sites to see the process firsthand. I had the time of my life! That's where I fell in love with construction and realized that the process of architecture was so big. With an understanding of architecture and building science, I knew I could help address risk management in the design process and prevent building failures. I could be around design and contribute to it in my own way."
After working for Chris Benedict, Christine went on to work for a few other consulting firms before starting her own consulting business, where she teaches building science and construction to architects, developers, contractors, and other professionals in the building industry. Her consulting experience includes the restoration of Belvedere Castle in New York City's Central Park and forensic investigations of building failures at both the air traffic control tower of LAX and the Wheeler Opera House in Aspen, Colorado.
Architecture, building science, and construction are all best learned through apprenticeship. Christine credits her skill to quality mentors who shared wisdom she wouldn't have found elsewhere. This is what inspired her to found @buildingsciencefightclub, an Instagram account dedicated to teaching building science and construction to architects and other building industry professionals.
"In this field, it's not uncommon to feel like we can't admit when we don't know something," Christine says. "Or that the only way to get that knowledge is through embarrassment. I've been in that situation and it's not a feeling anyone should have. I started @buildingsciencefightclub to teach other people lessons that you'd otherwise only learn by being on a construction site every day — which very few architects get to do. Sharing my knowledge on Instagram for other people in the industry is my way of contributing to the apprenticeship model the industry is based on. The idea is to create a culture of open communication where people can ask questions and not be embarrassed by what they don't know."