WHAT BUILDING OWNERS NEED TO KNOW ABOUT MYCOTOXINS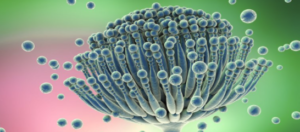 With a number of unsavory individuals overselling their expertise about mycotoxins, this month we want to educate our readers on this topic. Here's what building owners need to know about mycotoxins, including their potential danger to humans and the best way to remove mycotoxins from your building.
Why are there mycotoxins in my building?
If you have mycotoxins in your building, then it means you have mold, which means you also have excess moisture somewhere. Mycotoxins are toxins generated by certain species of mold for the purpose of removing other molds from the area. If there's a chronic water leak in the corner of a room, then certain molds will grow first. These are called "first colonizers." If that space remains wet enough for a long enough period of time, then other opportunistic molds will occur.
We usually see Stachybotrys chartarum, commonly known as black mold. Since Stachybotrys also generates mycotoxins, people will often call it "toxic black mold."This name sounds more serious than the mold usually is. The toxins Stachybotrys creates are designed to kill first colonizer molds so the Stachybotrys can invade that real estate. If you have mycotoxins in your building, then you probably have a serious mold problem that's been lingering for a while.
Are mycotoxins harmful to humans?
If you have mold in your building, then there are probably mycotoxins in the air. As mentioned in our cover article, though there is some anecdotal evidence that claims that some individuals have suffered ill effects after inhaling or touching mycotoxins, there is no scientific research that suggests inhalation or dermal exposure to mycotoxins is dangerous. However, if ingested, mycotoxins can be incredibly harmful.
The World Health Organization (WHO) reports that "the effects of some food-borne mycotoxins are acute with symptoms of severe illness appearing quickly after consumption of food products contaminated with mycotoxins. Other mycotoxins occurring in food have been linked to long-term effects on health, including the induction of cancers and immune deficiency." While mycotoxins generated by mold in your building can be a potential problem, mycotoxins are far more dangerous when generated by mold in your food. Humans can ingest mycotoxins by eating molding food or by drinking milk from an animal that ate contaminated feed.
How can I prevent mycotoxins from infesting my building?
The only way to prevent mycotoxins is to prevent mold growth. The best way to prevent mold growth is through moisture control.
Fix leaks in your building as soon as they're discovered.
Watch for condensation or wet spots and identify the source of the
moisture problem.
Maintain low indoor humidity — ideally 30–50% relative humidity —
to help prevent condensation.
Keep heating, ventilation, and air conditioning (HVAC) drip pans
clean and unobstructed.
Perform regular building/HVAC inspections and maintenance.
How do I get rid of mycotoxins?
The only way to remove mycotoxins is through proper mold remediation. If you fail to remove the mold from your building, then the mycotoxins will return.
Mycotoxins are not the biggest threat of mold growth, but their presence shouldn't be ignored. As with all areas of indoor air quality, mycotoxins should be addressed quickly and dealt with by experienced professionals.