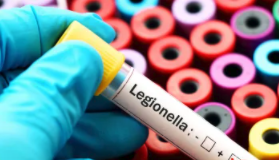 If your building has Legionella in its water, would you want to wait 10–14 days to find out? That's how long it would take to complete a culture sample, the traditional method to test for Legionella bacteria in a water source. This means that if your building does have a Legionella problem, it could be almost two weeks before you know for sure. If the safety of your building is in question, time is of the essence. Fortunately, we now have a far more rapid method to test for Legionella: quantitative real-time polymerase chain reaction (qPCR).
When testing for Legionella, the qPCR method amplifies the target gene sequence unique to the genome of the Legionella bacteria. With the qPCR method, results can be determined by a laboratory in 2–4 days. Some labs have even reported results in as few as eight hours. The qPCR method can also be used to detect strains of Legionella that are not culturable, offering more accurate results. This method only came about in the last few decades.
Polymerase chain reaction (PCR) testing is a method that allows scientists to replicate a small sample of DNA until it is large enough to detect a nucleic acid signature in the sample. The concept of PCR first appeared in 1971, when Professor Kjell Kleppe and Nobel laureate Har Gobind Khorana described a technique that was a possible method for nucleic acid replication. Kleppe and Khorana's technique matched what is today recognized as PCR, but it could not be proven experimentally at the time because the technology to test such methods was not yet available.
Over a decade later, in 1983, an American biochemist named Kary Mullis successfully demonstrated PCR. In the following years, other researchers helped modify Mullis' invention. The perfected PCR technique came to revolutionize biochemistry, molecular biology, genetics, medicine, and forensics. In 1993, Mullis won the Nobel Prize in Chemistry, an honor he shared that year with fellow biochemist Michael Smith.
Around the same time Mullis won the Nobel Prize for PCR, molecular biologist Dr. Russell Higuchi determined that by adding a fluorescent label that binds to accumulating PCR products, the process could be monitored in real time. This paved the way for qPCR. Today, researchers measure any change in the fluorescent reporters by using either dyes or probes. The dyes bind specifically to the double-stranded DNA. The probes are synthesized to degrade during the amplification process, which releases the fluorescent signal. When the fluorescent signal is detected, researchers are able to confirm the presence of a specific strand of DNA.
These advancements allow researchers to detect the amplification of targeted DNA in real time rather than at the end of the process, as is the case  with conventional PCR. The new gold standard for Legionella testing, qPCR has become a vital tool in pathogen detection and biomedical diagnostics.
So what does this all mean for a building owner or facility manager?
The equipment needed to perform a qPCR analysis of water to look for Legionella bacteria is now commercially available. Our staff has been trained in its use, and we can now sample, analyze, and report on the presence of live bacteria in your water system in 45 minutes — all done on-site!
Building owners and facility managers will certainly benefit from knowing now rather than waiting for a laboratory analysis. More information is coming on this in next month's newsletter.