CONFERENCES, CRUISES, AND COVID-19
Summer is almost here, and I know many people are planning their summer vacations. I've already taken my big vacation this year, and I must say, it was a pretty great trip. This past February, I went on my very first cruise. Talk about timing. To be clear, I booked this trip back in 2019, well before COVID-19 began popping up all over the world.
This year, the Indoor Air Quality Association Annual Meeting & Expo was in West Palm Beach, Florida. While making plans to attend the conference, I learned that there was also a cruise scheduled to leave from Miami a few days after the conference was over. Ready for a vacation, I booked a trip for myself, my wife, and our friends Ginny and Chris. My wife and I had only been on one cruise before. But this one was at the start of a pandemic that is still affecting us. Fortunately, our trip was before the U.S. State Department warned Americans against going on cruise ships at all. However, COVID-19 was still enough of a problem that plenty of people were expressing concerns about our trip.
I'll admit, I was a little worried, too. Our cruise was aboard Oasis of the Seas, one of Royal Caribbean's largest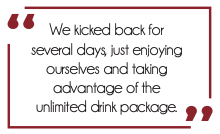 vessels, designed to house 6,000 guests and 2,500 staff. It would have been pretty bad if there was an outbreak of COVID-19 on such a large ship. But even before we boarded, I could tell how serious the cruise line was taking the virus. We got email updates from them several times a week about the safety measures they were taking. These safety measures increased once we were aboard. Everywhere we turned there was hand sanitizer, and we were expected to use it before entering a public area. One evening, Kaye and I returned to our room at 1 a.m. and found the cleaners disinfecting the floors, walls, and handrails of the entire hall using a fogging machine. This might have been done to prevent norovirus, but it gave us confidence in the cruise line's commitment to the guests.
In addition to the attention to hygiene, the ship was amazing. The attractions on Oasis of the Seas included two surfing wave pools, two rock walls, an enormous outdoor water theater, several indoor theaters, an ice skating rink, and dozens of excellent restaurants. We definitely chose the right ship for our first cruise. We kicked back for several days, just enjoying ourselves and taking advantage of the unlimited drink package.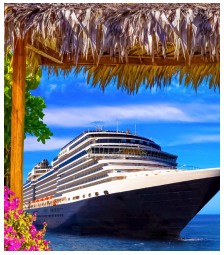 Our cruise also included three excursions off the ship: Labadee, a private beach resort in Haiti owned by Royal Caribbean; Falmouth, Jamaica; and Cozumel, Mexico. Every stop was great and offered something unique, from zip lines to tequila tastings, but my favorite part of the trip was our dune buggy adventure tour in Falmouth where we whizzed through the jungles and forests of Jamaica on dune buggies. During the tour, the water and mud was so deep in some places that we all had to stop, then, one by one, "give it the gas" as they said. Basically, we went through the mud as fast as we could.
Everyone got covered in this fine, red Jamaican mud as we kicked up a wall of mud about 10 feet high, and it got everywhere. There was mud in places we didn't know it could reach. It was a mess! Back on the ship, I scrubbed and washed the clothes I'd been wearing and they were still filthy. And you know what? That was my favorite part of the whole cruise. The trails were rough and the mud was wild, but it was challenging, fun, and unique all at once.
As with our first cruise (15 years ago) this one was worth it! It was fun, and I came back relaxed and didn't get COVID-19. As far as vacations go, that's really all you can ask for.