PREPARE YOUR BUILDING IN HURRICANE SEASON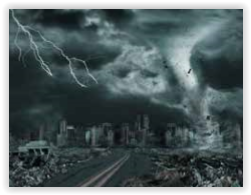 Last fall marked one of the worst hurricane seasons to date. Several hurricanes devastated the United States and many island territories, and FEMA reported that Hurricane Harvey was "probably the worst disaster in Texas history." Experts warn this year could be just as bad, if not worse. Here's what building owners and property managers need to do before the next big storm roars through.
Create a Playbook
The first step to handling a disaster is to plan and plan well. Creating a playbook helps you get a big picture of what needs to be done in the event of a hurricane. Some of the things you should have in this playbook include:
Contact information for staff members, including phone numbers, addresses, and emergency contacts.
Outline of pre-storm procedures, including a team of emergency personnel with clearly defined duties for responding to a hurricane and dealing with the aftermath.
A communication plan. Determine how you will relay important information, be it through phone calls, text messages, email, or social media. While some delay will be expected after a bad storm, keeping staff and occupants informed about what's going on will help alleviate fear and confusion.
An updated list of third-party companies who can help with disaster recovery. This includes flood water remediation, electrical contractors, indoor air quality inspectors, and other persons who can ensure your building is safe for occupants should it suffer
damage during a bad storm.
Once you have the playbook, schedule a meeting to review the contents and get everyone on the same page. Remember, the power can be out for days following a disaster. Keep hard copies of this playbook accessible to all managers in case an emergency occurs.
Test the Generators
Just having a generator isn't enough to guarantee you're covered during a disaster. Test your building's generators to make sure they're ready to run if and when you need them. Additionally, you should call in a professional to conduct regular maintenance long before you need the generator to run the building.
Remove Hazards Around the Building
Instruct landscapers to consistently trim branches and remove damaged trees from around the building to reduce the chances of damage caused by wind. Consider having the roof, doors, and windows retrofitted to keep them secure during a hurricane, and prevent water damage by having the rain gutters and downspouts secured and cleared of any debris.
Hurricanes are a terrifying reminder that, no matter how prepared you are, there's not much you can do when the rain starts and the wind picks up. But that doesn't mean you should do nothing except hope for the best. Do what you can to make your building as safe as possible before it's too late.