HERE'S TO LEARNING, RELAXING, AND RECHARGING!
For almost a year, apart from the trip to Wisconsin that I detailed in last month's newsletter, my wife, Kaye, and I have stayed home to reduce our exposure to COVID-19. I know that it was the safe thing to do, but with luck, that isolation will change in 2021!
I have big plans for this year, both personally and professionally. I hope to spend time relaxing with my family and to meet with my colleagues in the air quality industry face to face at conferences. Here's a sneak peak of my itinerary for the year.
THE MEXICAN RIVIERA, MEXICO: A COUPLE'S RETREAT
Kaye and I have a timeshare at a resort on the Gulf Coast of Mexico, and we're planning a visit in late January. We'll keep our distance from other vacationers, but we're looking forward to relaxing in the sun, enjoying the pool, and unwinding together away from home.
PUERTO VALLARTA, MEXICO: FAMILY FUN IN THE SUN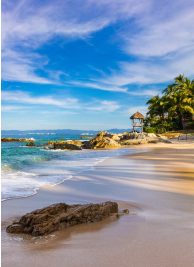 At the end of March, we'll head back to Mexico to meet one of our daughters, our son-in-law, and our grandchildren in Puerto Vallarta. It's a beautiful resort town on the Pacific coast. We'll probably still be relaxed from the January trip, but I plan to force myself to take it easy again. Between the sun and the water, I know it will be tough, but someone has to do it!
WESTFORD, MASSACHUSETTS: BUILDING SCIENCE SUMMER CAMP
This three-day conference was canceled last year due to COVID-19, but I'm hoping it goes forward this time! Every year, I anticipate meeting with my peers in person, discussing our field, and learning about the latest technology, processes, and research related to air quality concerns. Summer Camp is a great space to collaborate and discuss issues encountered across the industry while investigating buildings. I've been attending this conference regularly since 2001, and it has had a big influence on my work.
HONOLULU, HAWAII: INTERNATIONAL SOCIETY OF INDOOR AIR QUALITY AND CLIMATE CONFERENCE
The ISIAQ conference is slated for four days this year. Presenters will discuss air quality issues from the research stages all the way through application, with a special focus on COVID-19 and any future viruses that we encounter. I'm on the planning committee for this event, and we're just starting to nail down the presentation schedule. I couldn't be more excited to talk about the pandemic and how it affects indoor air quality with others in the industry. I'm anxious to be at the leading edge of that discussion! It will be extremely helpful to understand both the latest COVID-19 research and how to implement it in my day-to-day work to keep my clients' buildings safe. After the conference, Kaye and I plan to stay in Hawaii and meet up with two of our daughters for a 10-day family vacation.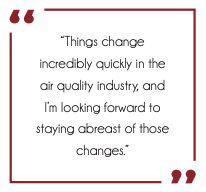 By the beginning of September, I'll be as relaxed and knowledgeable as I can possibly be, and that will carry on to 2022! Things change incredibly quickly in the air quality industry, and I'm looking forward to staying abreast of those changes. (The technology we have today is radically different from what we had 10 years ago.)
Yes, it's possible that this itinerary won't go exactly to plan, but I'm keeping my hopes up. With the world's top scientists and researchers working hard to develop a vaccine, COVID-19 lockdowns won't last forever. Whatever this year brings, I plan to make the most of it, and I hope you do the same!
Wishing you a fun and educational 2021,