THE RISK OF LEAD EXPOSURE IN REMEDIATION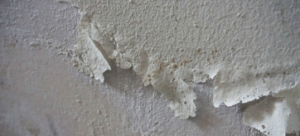 For most of human history, lead was a popular material in art and construction, thanks to its extreme malleability and corrosion resistance. Ancient Egyptians used lead for sculptures and pottery glazes. The Greeks lined the hulls of their ships with lead. And the Romans used lead to build their elaborate water systems. Found in everything from roofing to makeup, lead's widespread use resulted in lead poisoning. Unfortunately, it wasn't until the 20th century that scientists discovered the dangers of lead.
As awareness of the negative health effects of lead increased, countries began banning lead-based products in the name of public health. Despite popular belief, these bans have not eliminated the presence of lead from homes and buildings entirely. A lack of understanding about the presence of lead poses a great danger to building occupants as well as to remediators who may come into a building to fix a problem that's not related to lead. Here are two dangerous myths about lead we need to stop believing.
Myth No. 1: Lead is only a problem in structures built before 1978.
Lead isn't just a hazard in the remediation of older buildings. Though the federal government banned consumer uses of paint that contained lead in 1978, buildings constructed after the ban can still contain dangerous levels of lead because other lead-based products are still being used to build homes and other structures today. These building products, usually imported from other countries, can include:
Ceramic tile glazing
Porcelain glazing on bathtubs and sinks
Stained glass windows
Lead water piping
Pipe solder
Roof flashings
Lead lag shields
PVC
Solar cells
Rubber and plastics (lead oxide and lead chromate)
In addition to building materials, some household items also contain lead. Batteries, electronics, jewelry, antiques, ammunition, porcelain, and old children's toys or books often contain lead.
Myth No. 2: Lead has nothing to do with mold or fire damage.
Remediators and other contractors need to be aware of the potential lead risk when they come in to address mold or fire damage.
Fire Remediation
Lead can vaporize at 752 degrees F. Structure fires easily exceed this temperature. When there is a fire in a building where lead is present in the building materials, these materials release lead vapor in the form of highly toxic lead oxide fumes. When the vapor condenses, fume particles are released into the atmosphere. These lead particles, when inhaled, can be absorbed directly into a person's bloodstream.
Even after the fumes disperse, lead-ladened smoke can permeate surfaces in the form of ultra-fine lead dust. If you handle something covered in lead dust and then touch your nose, eyes, or mouth, you risk lead exposure. Lead dust that gets into a remediator's hair or clothing can move to other locations. This so-called take-home lead can find its way into your home and put your family and children at risk.
Mold Remediation
Strict federal and state regulations detail procedures for how remediators should conduct inspections or do work at sites where regulated hazardous materials, such as asbestos or lead, may be present. As it is not uncommon for mold remediators to encounter materials containing asbestos or lead, it is important for those who answer mold complaints to be aware of these regulations. Remediators who fail to follow these regulations risk contaminating the entire structure and getting fined.
Lead exposure remains a risk even for those working in modern buildings. In order to negate this risk, Restoration & Remediation Magazine suggests the following:
Treat every fire or mold remediation as if there is lead, until proven otherwise.
When entering a fire-damaged structure, all persons should wear proper personal protective equipment.
Have a certified environmental testing company examine samples of ash, soot, or dust for lead contamination.
Do not prioritize mold over other regulated hazardous materials.
When interior finishes are suspected to be contaminated with lead-based paint, addressing this hazard must take precedence.
The dangers of lead are well known, but these dangers are not a thing of the past. Remediators and building occupants alike should educate themselves about potential lead hazards to reduce their risks during remediation work.