ONE OF HOUSTON'S TOP MOLD EXPERTS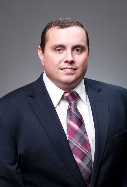 Two years ago, I took a class on asbestos inspection here in Houston and ended up sitting next to another expert in the field: mold assessment consultant Justin Soliz. Justin owns the local company HTX Mold Consulting and has more than 15 years of experience in insurance adjusting, restoration, and forensic reviews of buildings with problems. He's also a U.S. Marine Corps veteran and a member of the state advisory board for the Texas division that licenses mold consultants. He is also one of the most hardworking men I've met in the indoor air quality field.
Over his time in the industry offering mold inspection, testing, and remediation, Justin has seen a lot. One building he'll never forget inspecting was a 500,000-square-foot internet hosting facility in Wichita, Kansas.
"We were referred by a national mold remediation contractor to come in and do the assessment," Justin remembers. "We were the third company brought in — the first two didn't address the mold issue. … Once we did our walk-through, we realized the exterior walls of the building were failing. They were allowing a moisture intrusion that wasn't drying and, in turn, causing mold growth on the exterior walls inside of the building."
As you can imagine, the 300 software engineers working in the building weren't happy!
"They wanted to know what type of mold, the cause, any health effects that could arise. Obviously, from our inspection reports, we determined the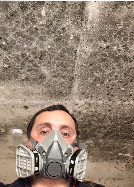 building was unhealthy and their health could be affected if they had a compromised immune system or were in direct contact with these areas of mold growth. After we put together our remediation protocol … [and the work] started, they realized it would cost more than the building was worth! They ended up condemning the building and the project ceased."
That's just one example of Justin's inspection skills protecting people's health. Since starting his company in 2017, he has worked on commercial, residential, and multifamily properties in Texas and seven other states.
Like me, he also fights back against all of the phony, badly researched, and over-hyped indoor air quality products that have popped up to address mold. UV lights and HEPA filters, he says, are often ineffective Band-Aids masking more serious mold issues.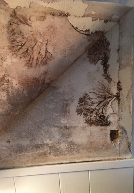 "Find out what is causing that problem, then fix it; don't add a new air filter or UV light. As we like to say, that's basically putting a screen door on a submarine," he says, noting that when he conducted an at-home test with one of these UV lights, he found no reduction in mold spores after 21 days of use.
On the day we met, Justin and I discovered that we share clients, projects, and a similar work ethic. Now when I need another experienced mind on a project involving mold, Justin is one of the people I can call. The feeling is mutual.
"I probably contact Travis once a week just to pick his brain on things he has done and seen in the past," Justin says.
Not long ago, the two of us worked together to inspect a 1-year- old, mold-riddled fire department building in South Houston. I provided the high-tech, aggressive testing equipment and Justin lent his mold expertise; together, we came up with a 60-plus page remediation plan that would save the building.
To find out more about Justin's work, expertise, and why I trust him, visit HTXMoldConsulting.com.