HOW TO BATTLE LEGIONELLA IN LOW-OCCUPANCY BUILDINGS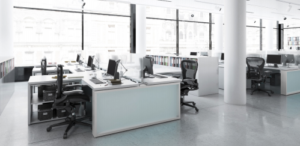 This fall, I've spent a lot of my working hours inside of lonely buildings. In the last week, I visited six different buildings in South Texas with startling low occupancy rates. One of them normally had 1,500 people on site but was down to just 25 occupants because of the pandemic. At another building, the security staff were keeping tabs on just 30 people scattered across almost as many floors.
Of course, after months of dealing with the fallout of this virus, that trend doesn't surprise me, but the magnitude of it was really driven home when I stopped by a group of four high-rises to do water testing. A year ago, the security guards told me those buildings would be crawling with 8,000 people. On the day I was there, less than 200 people were present.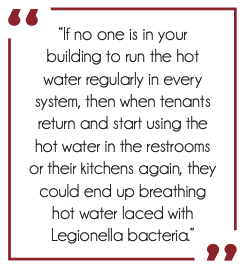 On one hand, it's sad to see that these beautiful buildings aren't being utilized the way their designers imagined. On the other, it's understandable that companies are keeping their workers away because of the COVID-19 pandemic. What concerns me the most, though, isn't that the buildings are currently unoccupied — it's that their water systems might become breeding grounds for Legionella bacteria while the occupants are away.
In last month's newsletter, we filled you in on the history of Legionella bacteria and the qPCR method for testing it, which allows us to get lightning fast lab results. In the past, it took 10–14 days to find out if there was Legionella in your building, whereas today we can find out in 45 minutes. These advances are impressive, but they don't mean much if we let concerns about Legionella fall by the wayside. COVID-19 is at the front of all our minds right now. But Legionella should be there, too.
Most building engineers and facility managers understand that when cooling towers are left untreated, they can grow bacteria, including Legionella. When this happens and Legionella becomes airborne, people who breathe it can develop infections causing serious health effects, like Pontiac fever or Legionnaires' disease. What some building managers don't recognize is that even hot water systems that supply bathrooms, tenant kitchen areas, and janitors' closets can develop the same problems. And right now, the threat of that happening is greater than ever
Building use is reduced right now, and that means hot water use within those same buildings is reduced as well. This is concerning because Legionella bacteria tends to develop when water isn't cycled on a regular basis. If no one is in your building to run the hot water regularly in every system, then when tenants return and start using the hot water in the restrooms or their kitchens again, they could end up breathing hot water laced with Legionella bacteria.
The sooner building managers recognize this possibility, the sooner they can put processes in place to manage it. One strategy that can help prevent Legionella is assigning staff the task of running hot water through faucets and pipes in the building for 15–20 minutes each week. This should be enough time to drain water heaters, causing them to refill. Some larger water heaters will take longer, but 15–20 minutes is a good ballpark figure. While this might seem like a waste of water, it's actually one of the best ways to reduce the potential for bacteria to occur, which is well worth it in the long run.
As I mentioned, though, this strategy needs to be used in every system to be successful. That includes the systems inside tenant spaces! If tenants have been absent for five or six months and haven't used the hot water in their break room kitchen, for example, there's a high potential for bacteria to grow there. And if a tenant returns and ends up coming down with an illness, odds are they won't wonder if it's their fault for failing to run their water heater — they'll just blame the building for making them sick. Building managers occasionally forget to send staff into tenant spaces to run the hot water systems, but that attention to detail can be the key to keeping a building Legionella-free and protecting you against liability and exposure.
If you've done everything you can as a building manager to drain your building's hot water tanks on a regular basis and you feel comfortable that you're Legionella-free, that's fantastic. But if you have any doubts after reading this, my team and I will be happy to come out and test all of your cooling towers, building hot water heaters, and tenant hot water heaters to make sure you're in the clear. Thanks to the advances in testing, you'll get your results almost immediately. Then, once your building has been cleared or you've taken steps necessary to address the Legionella problem, you'll be able to rest easy knowing that when your tenants do return, it will be to an environment that's just as healthy and safe as it was when they left.