WHAT DOES THAT MEAN FOR YOUR BUILDING?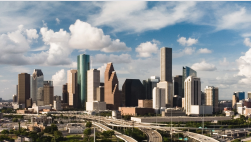 Houston, we have a problem: ozone pollution. If you've lived in the city for a while, then you probably know we have an uncomfortable amount of ozone swirling in Houston's air. In fact, our ozone levels are so high that, on many days, they don't meet National Ambient Air Quality Standards (NAAQS) set by the Environmental Protection Agency (EPA). That means the air is considered unhealthy for some people to breathe safely.
WHAT IS OZONE, AND WHY IS IT A PROBLEM?
Ozone gas is an upper respiratory irritant that can negatively affect the eyes, sinuses, and upper respiratory tract. This is a big deal for people with asthma, and even healthy people should be careful not to breathe too much ozone. Unfortunately, it's hard to avoid here in Houston. We have so many "nonattainment days" — days with ozone levels above the NAAQS — that eight counties in our area are considered "nonattainment counties" and listed among the worst ozone hotspots in the country.
WHERE DOES OZONE COME FROM?
Outdoors, there are two main culprits of ozone: pollution from automobiles and emissions from petrochemical facilities. Houston has a lot of both, and the high heat doesn't help. According to the American Lung Association, when the mercury climbs, ozone is more likely to form and harder to clean up. Indoors, most ozone pollution likely leaks in from outside, but there are other ozone sources, too. Office equipment and appliances like coffee machines, high-speed printers, and photocopiers can leak ozone into the air. Even air purifiers occasionally generate ozone!
TO TEST OR NOT TO TEST?
In the past, our team didn't automatically test ozone levels during our proactive indoor air quality surveys. We would check them only on request or if we saw red flags. That's because when we did test for ozone, the results would largely depend on the state of the air outside. A "nonattainment day" could trigger a high ozone reading indoors even if there weren't any ozone-generating electronics in the office. Now, because of our clients' interest in the new WELL Certification program, we're now adding ozone to our list. We'll look for discrepancies between indoor and outdoor ozone levels and help you track down appliances polluting your building's air.
To schedule a proactive indoor air quality survey and protect your tenants from ozone, reach out to our team today at 1-866-367-1177.