THE BEST NAME FOR A CRAWL SPACE DOG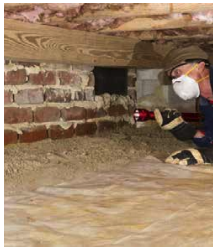 This month, I want to talk about something that has been described to me as the "most terrifying" part of a building: the crawl space. In early February, I got a call from one of my clients asking me to come out to El Paso to do an air quality survey in a building near the border. This job came with a stipulation that I would have to go into the crawl space beneath the building and take some readings.
Commercial buildings aren't built with crawl spaces, so I haven't spent a lot of time in them during my career. But I have breathing protection and a couple of Tyvek suits, so it wouldn't be an issue for me to suit up and dive into the crawl space. The only real problem was that this call came right before my trip to Florida and my following cruise, so I wouldn't be able to get to El Paso until the first week of March. Time was of the essence, so my client opted to find someone who could get out there sooner. I fully understood. In fact, as soon as we hung up, I felt a sense of relief. I suddenly remembered the last time I went down into a crawl space.
Almost 10 years ago, I had a job referred to me by a doctor whose patient was suffering from mold exposure. The doctor asked if I would take a look at their patient's house, a mobile home in the country in Louisiana. Since they were willing to pay my price, I agreed. Initially, I didn't plan on going into the crawl space at all. However, after I finished my investigation, I realized that because it was a mobile home and the duct work goes underneath a mobile home, the problem could be hidden the crawl space.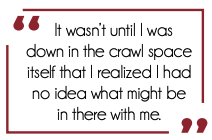 The family asked if I would check the crawl space, and since I had my breathing protection and Tyvek suit with me at the time, I agreed to take a look. I'm not claustrophobic, nor am I afraid of the dark, so getting into a crawl space didn't seem like that big of a deal. It wasn't until I was down in the crawl space itself that I realized I had no idea what might be in there with me. Anything could be waiting for me, and you can't exactly move quickly.
Fortunately, this family had a dog who was more than happy to climb down into the crawl space with me. The dog ran back and forth beneath the house the whole time I was in there. Usually, I'd rather not have animals running around while I'm working, but I was glad to make an exception that day. I was confident that if there was anything else in the crawl space, that dog would catch it or scare it off before it ever got to me.
I don't think the building in El Paso would have had a dog around to assist me, so I'm glad they were able to find someone else to take the job. I don't have a crawl space dog of my own to help in these cases, but I wish I did. His name would be Root, because he'd be rooting stuff out with me. Unfortunately, only doing one crawl space every eight years doesn't justify getting a crawl space dog. He'd never have any work to do!
I do have a cat named Stewart who would have made a great crawl space cat in his youth. He had a real knack for chasing snakes. But Stewart is 15 years old and doesn't see real well. He wouldn't appreciate working with me in some crawl space. Today, his only job is to just hang out around the house.
In conclusion, unless you have a crawl space dog ready to assist me, please don't ask me to go down into any crawl spaces. They're just not my cup of tea.