HARD FACTS ABOUT E-CIGARETTES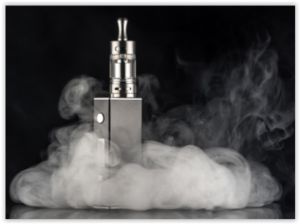 In the United States, smoking is the biggest cause of preventable death. Every year, more than 480,000 people die from a smoking-related illness. Within the last decade, a new product has emerged, offering an alternative to smoking. This product, with the potential to decrease the rate of smoking-related deaths — or maybe create a new breed of health problem — is called e-cigarettes.
When using an e-cigarette, a cartridge of liquid is heated and the resulting vapor inhaled. Through the vapor, users get a hit of nicotine and other products used to create a desirable flavor. As they lack the dangerous chemical additives present in tobacco cigarettes, fans of vaping can be quite vocal when insisting e-cigarettes are less harmful than traditional smoking. And recent research may prove them right — to an extent.
Research from the Royal Society for Public Health in Great Britain concluded nicotine alone, while addictive, is no more harmful than the caffeine found in your morning cup of coffee. The dangers from smoking tobacco come from the toxic chemical additives like arsenic and benzene. These chemicals have been linked to cancer, heart disease, and stroke. The RSPH has gone on record encouraging smokers to switch to e-cigarettes.
In the U.S. the popularity of e-cigarettes has been on the rise over the last five years. The FDA reports that around 9 million adults in America get their nicotine fix through vaping. However, studies have also found more than 3 million middle school and high school students are using e-cigarettes. As of 2015, e-cigarettes were the most common tobacco product used by kids.
Commercial property managers have new and unique challenges related to the increased use of e-cigarettes. Although most major cities have smoking ordinances in place to address tobacco use in public spaces — including commercial buildings — many of those same ordinances do not include e-cigarettes. And therein lies the problem. Building managers are now having to modify their building use guidelines to prevent e-cigarette use inside the building. This is becoming an issue that is difficult to regulate.
We have been involved in several IAQ complaints regarding "tobaccolike odors" briefly occurring in occupied suites. Investigating a source has proven difficult, but we were successful in "catching the perp" in one instance.
Working a high stress job, the young executive would turn on his vapor device, draw one deep inhale, and then turn it off — every 20-30 minutes. When that happened, the odors were present for a very short period of time. And you can't be there quick enough to catch them, creating a difficult issue to manage!
Most health experts agree that, while e-cigarettes are far less harmful than traditional cigarettes, more research is necessary. The American Industrial Hygiene Association released a report in 2014 investigating the effect e-cigarettes can have on indoor air quality. While they are "safer" than traditional cigarettes, they still produce pollutants and airborne contaminants. The long-term effects of e-cigarettes on vapers and the individuals around them are still unknown.