THE TRUTH ABOUT OZONE GENERATORS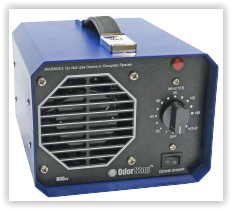 When dealing with a foul odor in your building, the first step is to hire a professional to identify the source of the odor and eliminate it. This usually solves your odor issue. However, there are some situations in which unpleasant odors linger long after the offending substance is gone. When looking for a solution to this problem, many building owners or property managers have turned to ozone (O3) generators.
When oxygen (O2) atoms are exposed to electricity, the atoms break apart and create an unstable bond we call ozone. In order to return to a more stable compound, ozone atoms bind to other compounds in the surrounding air. Boasted as an "all-natural" solution to odor problems, manufacturers who build ozone generators insist their product can eliminate odors caused by everything from mold to cleaning products. They claim that by bonding to the molecules of chemical odors in the air, ozone destroys those odors. This isn't technically true.
Matter cannot be destroyed, only changed. When unstable ozone atoms bond with other molecules, it causes a chemical reaction and creates something new. Sometimes this reaction does eliminate the odor, but it can also create a new chemical compound that is even more harmful than the odor.
Take formaldehyde (CH2O) for example. Long-term exposure to formaldehyde can cause skin and eye irritation as well as flu-like symptoms or asthma. Considering this is a common chemical found in cleaning supplies, air fresheners, detergent, and pressed wood products, there's a good chance formaldehyde is already in your building. However, you don't want to buy an ozone generator to address the problem. Research published in the journal Environmental Science Technology found that not only is ozone ineffective in removing formaldehyde, its use can actually increase the levels of formaldehyde in an environment.
While the claim that ozone is naturally occurring is technically true, this doesn't mean ozone is safe. Asbestos is a natural substance, but you certainly don't want to bring it into your building. The Environmental Protection Agency (EPA) warns prolonged exposure to ozone can lead to respiratory problems, asthma symptoms, chest pain, throat irritation, irritated lung tissue, and a greater risk of lung disease.
There is a time and a place for ozone: For example, you can use it after cleaning a building's air ducts. But ozone generators should never be used in occupied environments. If you need to use an ozone generator, make sure the ozone has enough time to fade from the environment before people are allowed in. At least six hours is recommended.
Ozone should never be used to cover odors regularly. If you find yourself in a situation where ozone is the best solution to address an odor, practice great care. Under no circumstances should you allow the generator to be turned on in an occupied environment. The potential liability is too great to justify putting people in danger because a room smelled a bit musty.