HOW TO PROTECT YOURSELF FROM COVID-19 SCAMMERS AND THEIR FAULTY FILTERS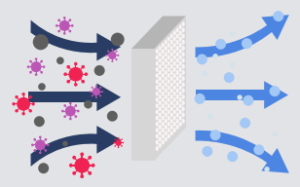 Every industry includes scammers and con artists willing to do anything to make a buck — even with indoor air quality. When the COVID-19 pandemic broke out, these snake oil salesmen jumped on the opportunity to make money off of honest people's fears. I've seen this with some of my own clients, a few of whom have fallen for or almost fallen for these scams.
Just to give one example, not long ago I heard rumors about a new product that "flooded a room with negative ions to kill germs and bacteria." The sellers said it was 98% effective and their claims were backed up by research. The whole thing looked good on the surface, but when I dug into that research, it all fell apart! The product had barely been tested, and its effectiveness had been exaggerated based on the studies I found.
There was no way of knowing whether it would work at all, let alone be worth my clients' money. I was able to steer clear of that scam product, but a building or facility manager less well-versed in the industry and its science might have fallen for it. This has been on my mind a lot lately, and I'm not the only one who has been thinking about it.
Last November, Francis J. "Bud" Offerman, one of the top researchers in the indoor air quality business, published a paper about the epidemic of scammers called "Beware: The COVID-19 Snake Oil Salesmen Are Here." It's a fantastic piece of research that dives into some of the claims out there and debunks them. If you're considering purchasing additional air cleaners because of COVID-19, I highly recommend reading Bud's article before spending your money.
You can read more about Bud on Pg. 1 of this newsletter and find his article at IEE-sf.com/pdf/ TheCOVID19SnakeOilSalesmenAreHere.pdf.new. If you have additional questions about a product, feel free to reach out to me as well.