COMMON CAUSES OF ODORS IN COMMERCIAL BUILDINGS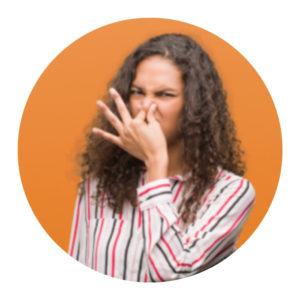 Calling in an expert to deal with a bad smell can seem like overkill to someone who's never dealt with an odor problem before. However, bad odors are a serious threat to indoor air quality and should always be taken seriously. Unpleasant odors can damage productivity, create a hostile work environment, and, depending on the source, be potentially harmful. When faced with an odor complaint, it's important to identify the source as soon as possible. Here are a few common causes of bad odors in commercial buildings.
Something on the Menu
We've seen our fair share of bad odors caused by a tenant's breakfast or lunch preferences. From pungent cultural foods to maple-flavored instant oatmeal, reheating meals in the company microwave can result in complaints from individuals who are sensitive to those smells. These kinds of odors are harder to identity if you aren't looking for the source of the odor right when the food is being heated. This is why if you get complaints about odors, it's important to note when bad scents appear to look for a pattern.
Bad Leftovers
Forgotten food can also be a source of foul odors. Abandoned lunches in the company fridge can quickly turn into smelly science experiments. It's wise to have a policy of throwing out all unclaimed food at the end of the week. Tenants who snack at their desk can also inadvertently create bad odors when a fallen piece of sandwich gets lost behind a desk or perishable snacks are left in their drawers.
A Dry Trap
The most common cause of a sewer or "rotten egg" smell in commercial buildings is a dry sink or floor drain trap. A trap is a U-shaped pipe that connects the drain to the sewer line. A small amount of waste water prevents sewer gases from coming up through the drain, so when the trap is dry, foul odors can be released into your building. Many times, running the water through the drain for a few minutes will solve the problem. However, a clog or leak may be causing the trap to lose water, so you might want to have a plumber come check the problem to be certain.
Mold in the HVAC
When mold is able to grow in an HVAC system, it can create problems throughout the whole building. Not only do mold spores spread around when the air turns on, they can also carry a bad smell through your building. It can be difficult to identify the source of the odor when the smell seems to be coming from all around you. Mold in the HVAC is a common problem, and building owners can save a lot of time if they check the HVAC first after getting odor reports. If the HVAC itself is mold-free, be sure to check the building's insulated air conditioning vents as well. Mold can grow there, too, and cause odors throughout the building whenever the air kicks on.
Odors are some of the hardest problems to deal with when it comes to indoor air quality. The scents can be sporadic, making it difficult to identity the cause of certain odors. Hopefully, this guide can help you locate and address unpleasant odors in your building as soon as possible.