IAQ POINTS IN LEED CERTIFICATIONS
Everyone wants a better building, which is why so many new buildings aim to meet the high standards outlined by the Leadership for Energy and Environmental Design (LEED). LEED-certified buildings are recognized internationally for green building design, occupant comfort, productivity, construction, operations, and maintenance solutions.
The levels of LEED certification (silver, gold, or platinum) depend on how many points a building is able to earn. Part of the LEED certification process involves healthy indoor air quality. There are two ways for buildings to score these IAQ points.
Option 1: Flush-out
Conducting a flush-out demands a little more than opening a lot of windows. The requirements for a flush-out involve "supplying a total air volume of 14,000 cubic feet of outdoor air per square foot of gross floor area while maintaining an internal temperature of at least 60° F and no higher than 80° F and relative humidity no higher than 60 percent." A flush-out requires a specific volume of outdoor air prior to occupancy and additional volumes after occupancy.
This strategy works best in places like San Francisco or San Diego, where you can bring in a lot of outdoor air without making the air conditioning work overtime. However, if you try to flush-out a building in Houston, you need to dehumidify the air and cool it down
in addition to filtering it. When you take into account that the whole process takes 8–10 weeks, it's no wonder that few buildings in Houston use the flush-out approach. It's very expensive to bring in and cool that much outdoor air, and most HVAC systems aren't designed to handle that much humidity.
Option 2: Indoor Air Quality Testing
The second option to achieve the IAQ point for LEED certification is to conduct baseline IAQ testing. This must be done after construction is over but within a few days prior to occupancy. Timing is critical. The testing looks at airborne particles, carbon monoxide, formaldehyde, total volatile organic compounds, and other items to confirm that they do not exceed specific concentration levels. Testing is conducted in all occupied spaces, and if one area fails, the building fails the entire process. Passing the IAQ testing can be difficult, but the upside is that the owner gets a baseline IAQ report confirming good air quality for the occupants before they occupy the building. This is something you can't get with a flush-out.
It won't surprise anyone to hear that Building Air Quality provides IAQ testing for new buildings to get LEED-certified, but the aid we offer LEED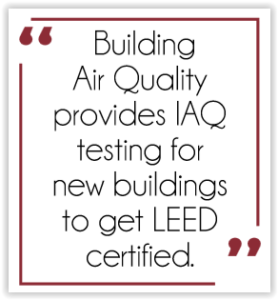 buildings doesn't end there. Every five years, LEED buildings must apply for recertification to prove they are as good as or better than when they were initially certified. After requests from our clients, we also offer testing for recertification.
To be honest, testing for recertification turned out to be pretty simple. The proactive surveys we already perform on many buildings, meet most of the criteria of the recertification process! Our clients can take the report generated from the proactive survey and submit that in their packet for recertification.
IAQ is only one part of LEED certification, but the nature of a building's IAQ can impact the building and its occupants for years to come.