THE PERFECT STORM
Early this summer, I went through one of the strangest experiences of my life. This may be a weird statement, considering that we have spent this year grappling with a pandemic. But if 2020 has taught us anything, it's that we never know what's around the corner. There's always something unexpected waiting to throw a wrench in our plans — like the lightning strike my wife and I experienced when a storm rolled through our area.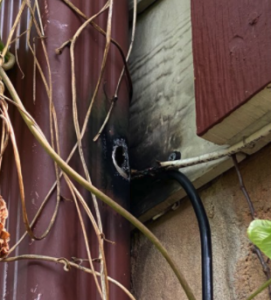 I was having a dream about fireworks when Kaye shook me awake at 2:15 a.m. She'd heard a loud crash, which is probably what those fireworks were in my dream. Our house was excessively dark. Sure, it was the middle of the night, but my house is usually fairly well lit because we have floodlights in front of the house and in the backyard. Those lights were all out. I grabbed a flashlight and made the rounds. I didn't smell any smoke, but I did find that four breakers had tripped because of the lightning.
The next morning, I discovered that my computer wouldn't start. The motherboard and the processor had been fried. It occurred to me that we might have had an electrical problem greater than what I'd assumed, so I called an electrician to come check all our outlets. We found a few outlets that had been tripped and burned from too much power, and upstairs next to my desk, where the AT&T cables come in, the electrician found smoke marks. Those cables, which are for our phones, TV, and internet, got so hot they fused to the box. No surprise, we had problems with our internet, TV, and phones.
We got AT&T to come out, and they dug a great big hole in my backyard to find the cable, which sat for a few days before someone else came out to actually fix it. Six days after the lightning strike, our cable TV still wasn't working. On day nine, another guy came out and was able to get everything up and running. But while he was walking around the outside of the house, he found the spot where lightning had carried along the wire and reached a downspout. The lightning had burned a hole about 1 1/2 inches wide in the aluminum, melted the wires, and then kept going into my house. When you consider that lightning can reach temperatures 53,540 degrees F, a 1 1/2 inch hole seems pretty mild.
My next-door neighbor was out of town when all this happened, so I sent him a note letting him know about the lightning strike and recommending that he check things around his home for damage. He found that his TV and internet were also out. And then he looked in his backyard at his two pine trees. On my side of the tree, they looked fine. But on his side, there was a 4-foot long vertical split in the bark on both trees. Turns out, the lightning had struck his trees first. Then it went through the ground into my yard and got into the AT&T cable wiring. From there it worked its way through the AT&T box and into my house, where it caused a whole mess of unexpected trouble.
When I went to file an insurance claim, my insurance agent Robert, who is also a longtime friend, recommended I wait a week to file so we could find everything that had been affected. This was good advice. Little by little, we kept finding more things that had been affected— the exterior ground fault circuit plugs, exterior security lights, inside LED light fixtures, my computer, all the AT&T equipment, a tool charger, a telephone base station and four handsets, the Apple TV, two of the HDMI ports on the flat screen, and our washing machine. These things were all over the house. Lightning had spread like water damage, showing up in unexpected places. Every time I turned around,
something else was fried!
Six days after filing the claim (and two days after the sale was off ), our dryer suddenly gave out. We originally thought that only the washing machine had been impacted, but it turns out the dryer was also damaged. It only had a few cycles left before it went out on us, right in the middle of laundry day. I told Kaye she could tie all the wet clothes to a string and dry them by running around the backyard like a kite. She chose to go to a friend's house and use their dryer instead.
I have to give my thanks to Robert. I've never had to file an insurance claim like this before, and he was a huge help. He's done a great job for me. As frustrating and inconvenient as it all was, I am really glad that it was just an inconvenience. We're lucky that our house didn't catch fire and nothing that was damaged couldn't be replaced. This was a strange experience, but it's the kind of story I'm sure we'll be able to laugh about later.